The most trusted
AI detector
Winston AI is the industry leading AI content detection tool to help check AI content generated with ChatGPT, GPT-4, Bard and many more Large Language Models.

The only AI detector with a 99.6% accuracy rate
Artificial intelligence is evolving incredibly fast, but so are we. Our model is updated to keep up with every notable LLM update.
Ai detector for writers
For Writers
Search engines such as Google can easily detect AI generated content and penalize it in their rankings. Stay ahead of your competition by ensuring your content is original and created by a human.
Ai detector for education
For Education
Ensure the content you are looking at is created by a human. Our tool will give you the clarity needed to ensure the work is within your guidelines.
Ai detector for publishers
For Web Publishers
Verify your writer and collaborator's work is human made. Insure the authenticity and originality of the content before publishing.
How Winston works
Our AI content detector is built to help you get a clear and accurate assessment.
1. Create your account for free to begin checking for AI content.
Our AI content checker allows you to organize and categorize your documents and files with ease. Utilize our labeling feature to give your documents a title and author, and view them by type for simple and efficient retrieval.
2. Enter the text you want to check for AI.
Paste text using our quick scan or upload documents in the following formats: .docx, .png and .jpg.
Our OCR (Optical Character Recognition) technology effortlessly extracts text from scanned documents or pictures, even those written in handwriting.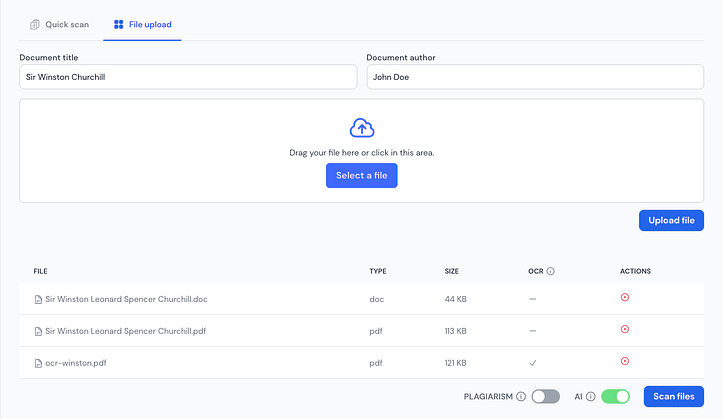 3. Get your results in seconds
Our AI detector will let you know, on a scale of 0-100, the percentage of odds a text is generated by a human or AI.

The AI prediction map will also provide you with a sentence by sentence assessment.

Activate our plagiarism checker to scan your text for plagiarized content.

Generate a report that can be easily printed for your records.
Flexible pricing for your needs
Up to 2,000 Words Scan
Advanced AI detection
Email and Chat support
Scan documents
Scan pictures and handwriting (OCR)
Generate shareable PDF reports
Advanced plagiarism detection
Invite team members
Top-up Credits
Up to 80,000 Words Scan
Advanced AI detection
Email and Chat support
Scan documents
Scan pictures and handwriting (OCR)
Generate shareable PDF reports
Advanced plagiarism detection
Invite team members
Top-up Credits
Up to 200,000 Word Scan
Advanced AI detection
Advanced plagiarism detection
Email and Chat support
Scan documents
Scan pictures and handwriting (OCR)
Generate shareable PDF reports
Unlimited team members
Top-up Credits
Up to 2,000 Words Scan
Advanced AI detection
Email and Chat support
Scan documents
Scan pictures and handwriting (OCR)
Generate shareable PDF reports
Advanced plagiarism detection
Invite team members
Top-up Credits
Up to 80,000 Words Scan
Advanced AI detection
Email and Chat support
Scan documents
Scan pictures and handwriting (OCR)
Generate shareable PDF reports
Advanced plagiarism detection
Invite team members
Top-up Credits
Up to 200,000 Word Scan
Advanced AI detection
Advanced plagiarism detection
Email and Chat support
Scan documents
Scan pictures and handwriting (OCR)
Generate shareable PDF reports
Unlimited team members
Top-up Credits
Frequently asked questions