The most trusted
AI detector and Plagiarism checker
for publishers
When it comes to ensuring content originality, publishers trust Winston AI for its industry leading accuracy rate in detecting AI generated content from ChatGPT, GPT4, Bard and all other LLM's.
Ensuring your content is original
Winston AI helps publishers safeguard the originality of their content and maintain integrity with their writers. With an unrivalled 99.6% accuracy in detecting AI-generated content from renowned LLMs like ChatGPT, Bard, Bing Chat, LLAMA, and others, Winston AI stands as the ultimate ally for publishers.
Original content = Content that ranks on Google
Elevate your content's originality and outrank your competitors on Google. Our tool is indispensable for publishers seeking to stand out amidst the digital landscape flooded with synthetic content. Publishers can ensure their materials maintain authenticity and steer clear of penalties that may befall robot-generated content on search engines.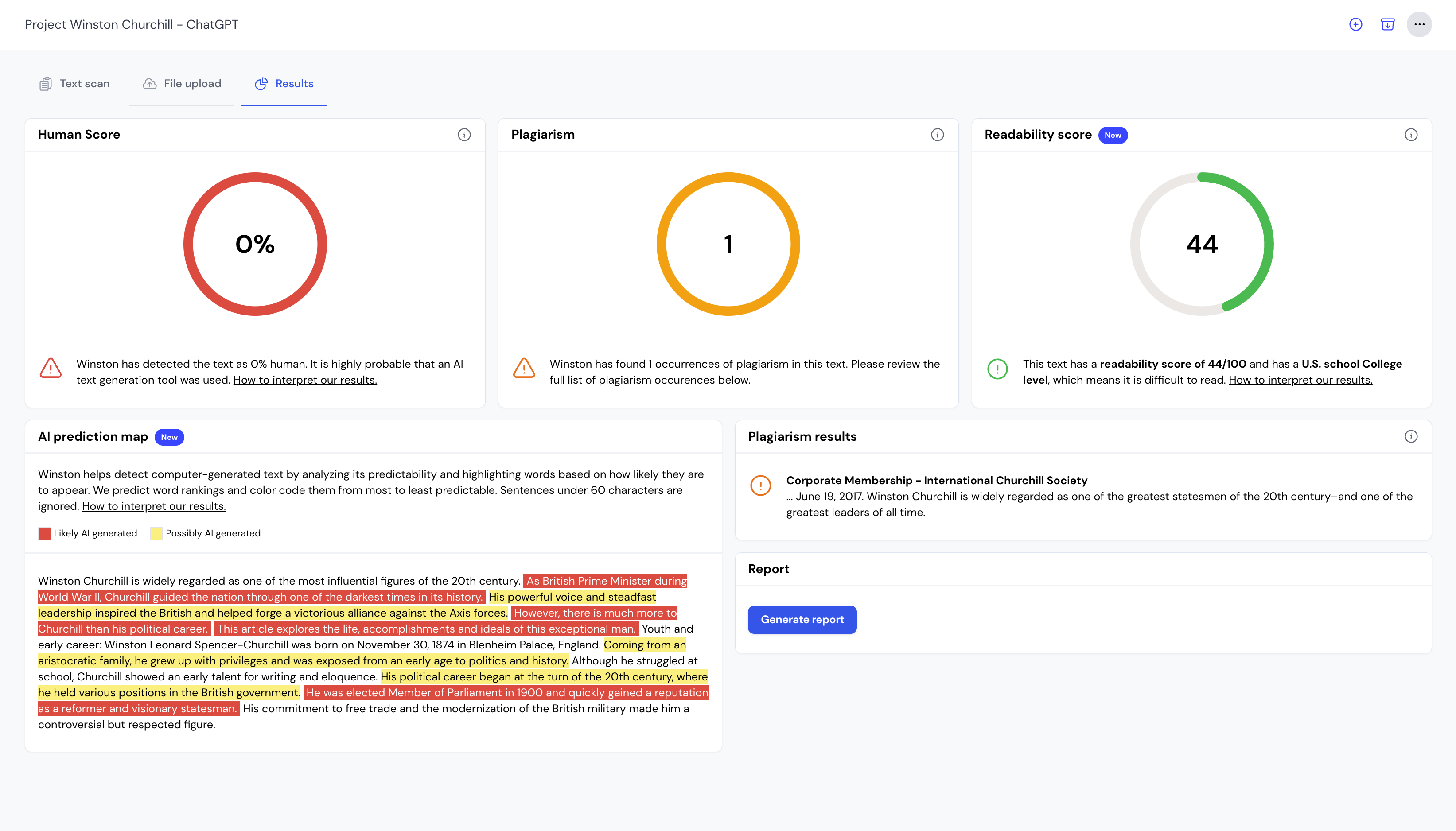 Complete solution with our Plagiarism Checker & Readability Score
Our solution includes an industry leading plagiarism checking tool providing all sources any form of content was duplicated from, along with a readability score to ensure you publish will connect with your target audience.
Frequently asked questions
Publishers need an AI detector for several crucial reasons:
Content Originality: An AI detector ensures that the content they publish is genuinely created by human writers, maintaining its originality and authenticity. This is essential for building trust with readers and establishing a reputable brand.
Combatting AI-Generated Content: With the rise of AI-generated content, publishers face the challenge of distinguishing between human-created and machine-generated materials. An AI detector helps them identify and filter out AI-generated content, ensuring only high-quality, human-produced content reaches their audience.
Search Engine Ranking: Search engines like Google prioritize original and valuable content. By using an AI detector to maintain content originality, publishers can improve their chances of ranking higher on search engine results pages, outperforming robot-generated content that may be penalized by search algorithms.
Protecting Reputation: Publishing AI-generated or plagiarized content can severely damage a publisher's reputation. An AI detector acts as a proactive measure to protect their integrity and credibility in the industry.
Overall, an AI detector is an indispensable tool for publishers to maintain content quality, uphold ethical publishing practices, and optimize their online presence in an AI-driven world.
Google's advanced algorithms can easily detect AI-generated content and may penalize it if it fails to meet the standards of originality and relevance. Publishers should be cautious about relying too heavily on AI-generated content, as it may lead to a negative impact on their search engine rankings.
Moreover, there have been instances where Google disabled Adsense on websites that excessively featured AI-generated content. This indicates that Google takes a strong stance against content that is perceived as low-quality or manipulative, regardless of its origin.
To maintain a strong online presence and comply with Google's guidelines, publishers are encouraged to prioritize creating original, valuable, and human-made content that resonates with their audience and provides real value.