Advanced plagiarism checker
Detect Plagiarism and AI generated content with our complete solution trusted by millions of users.

Advanced Plagiarism Checker
Powered By Artificial Intelligence
Discover the future of content integrity with our cutting-edge Plagiarism Checker and AI Detection Tool. Designed for writers, educators, and web publishers
For Writers
Check if your content is plagiarized and used by others to avoid being penalized by search engines like Google. Get the exact sources of the duplicate content.
For Education
Our plagiarism checker will search for occurrences of plagiarism and provide the complete sources. You can also scan any text to see if it was generated using AI Chatbots such as ChatGPT.
For Web Publishers
Ensure integrity with your copywriters. Your content's originality, relevancy and uniqueness will retain the attention of your audience and search engines!
Avoid plagiarism and AI generated content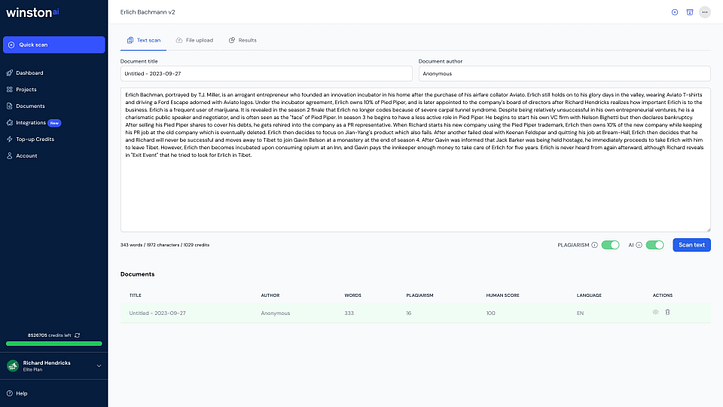 Complete solution to detect originality, authorship and use of AI
Ensure the originality of your content with our cutting-edge plagiarism detection technology. Our software scans the web and compares your text against billions of sources and databases to identify any matches.
Detect the use of generative AI tools like ChatGPT with our industry leading AI Detector.
Supports all languages for plagiarism.
Comprehensive Report Generation
Get a clear and accurate assessment report on the sources used for any occurence plagiarism found.
Visualize specific portions of texts that are AI generated.
Share your detailed assessment reports by link or .pdf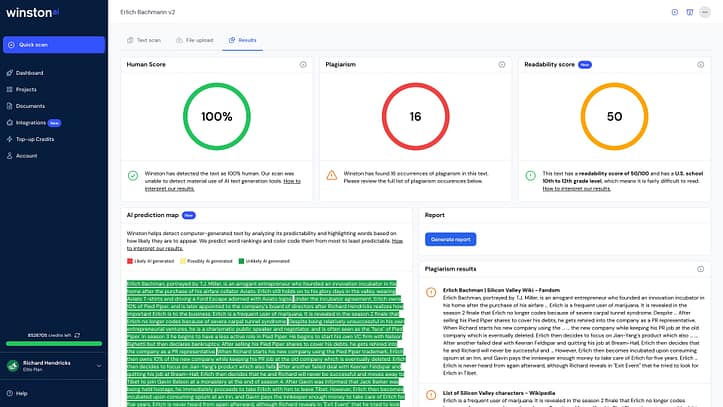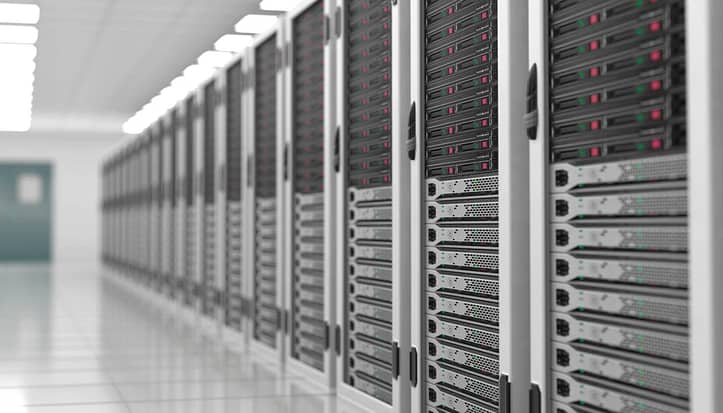 Confidential & Safe
Your scanned content is kept safe and encrypted.
It is not accessible to anyone else or shared with any outside organizations.
Winston AI does not use your content to enhance its own abilities.
You have the option to completely delete your documents from your account
Flexible pricing for your needs
Up to 2,000 Words Scan
Advanced AI detection
Advanced plagiarism detection
Email and Chat support
Scan documents
Scan pictures and handwriting (OCR)
Generate shareable PDF reports
Invite team members
Top-up Credits
Up to 80,000 Words Scan
Advanced AI detection
Email and Chat support
Scan documents
Scan pictures and handwriting (OCR)
Generate shareable PDF reports
Advanced plagiarism detection
Invite team members
Top-up Credits
Up to 200,000 Word Scan
Advanced AI detection
Advanced plagiarism detection
Email and Chat support
Scan documents
Scan pictures and handwriting (OCR)
Generate shareable PDF reports
Unlimited team members
Top-up Credits
Up to 2,000 Words Scan
Advanced AI detection
Advanced plagiarism detection
Email and Chat support
Scan documents
Scan pictures and handwriting (OCR)
Generate shareable PDF reports
Invite team members
Top-up Credits
Up to 80,000 Words Scan
Advanced AI detection
Email and Chat support
Scan documents
Scan pictures and handwriting (OCR)
Generate shareable PDF reports
Advanced plagiarism detection
Invite team members
Top-up Credits
Up to 200,000 Word Scan
Advanced AI detection
Advanced plagiarism detection
Email and Chat support
Scan documents
Scan pictures and handwriting (OCR)
Generate shareable PDF reports
Unlimited team members
Top-up Credits
Plagiarism checker & AI detection now Available Through API
Built for businesses that need a cost effective and reliable alternative to legacy plagiarism checkers.

Complete solution with plagiarism checker AND AI content detection.

Easy to implement

{
    "

status

": 

200

,
    "

score

": 

0

,
    "

sentences

": [
        {
            "

text

": "

With its distinctive curly coat and graceful demeanor, the Poodle stands out among other breeds.

",
            "

score

": 

25.7


        },
        {
            "

text

": "

However, there is much more to this remarkable canine than meets the eye.

",
            "

score

": 

10.96


        },
        {
            "

text

": "

From its high intelligence to its versatility in various roles, the Poodle is a breed that has captured the hearts of dog lovers worldwide.

",
            "

score

": 

15.71


        },
        {
            "

text

": "

One of the Poodle's most notable attributes is its exceptional intelligence.

",
            "

score

": 

15.23


        },
    ],
    "

credits_used

": 

134

,
    "

credits_remaining

": 

388703


}

Frequently asked questions