The industry leading
AI detector and ChatGPT checker
for education
Winston AI is the only AI detection software with a 99.6% accuracy rate in detecting ChatGPT, GPT4, Bard and many more AI writing tools.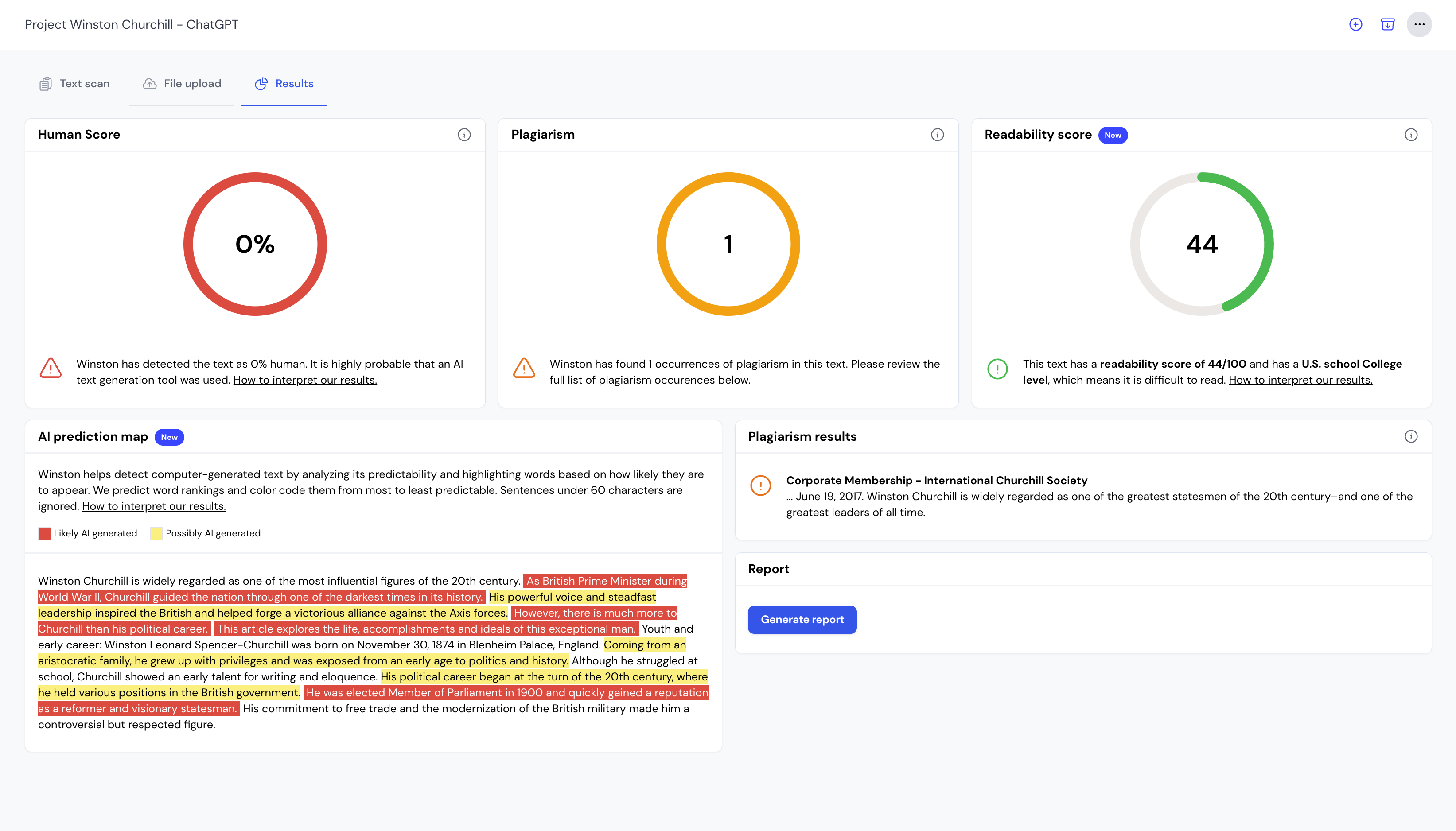 High accuracy for optimal integrity
Winston AI represents the pinnacle of artificial intelligence detection technology, boasting an unparalleled accuracy rate of 99.6% in discerning AI-generated content from all known LLMs (Large Language Models) including ChatGPT, Bard, Bing Chat, LLAMA, and numerous others.
Leveraging state-of-the-art algorithms and cutting-edge machine learning techniques, Winston AI has been rigorously trained on vast and diverse datasets, enabling it to distinguish between human-generated and AI-generated content with remarkable precision. Its high accuracy rate ensures a reliable and trustworthy tool to combat the rising challenges posed by AI-generated content in academia.
Built with educators for education
Our premium plans all have unlimited seats so your institution can share credits with as many colleagues as you'd like without at no additional costs.
Get shareable assessment reports so you can open a discussion with your students.
Our plans are flexible so you can upgrade for the busiest periods and downgrade or even pause your subscription at any time.
Secure & Confidential data.
Winston AI is a highly secure platform that ensures utmost data protection by employing advanced encryption techniques to safeguard all user information.
With data stored securely offsite in state-of-the-art facilities, users can trust in Winston AI's commitment to maintaining the confidentiality and integrity of their valuable data.
Under no circumstances is your data shared with any entities, or used to train and improve our capabilities. You can also purge your data entirely at your convenience.
Frequently asked questions
Detecting if your students are using ChatGPT or similar AI language models for their assignments may require a combination of strategies and tools. Here are some methods you can consider:
AI Detection software: Tools like Winston AI are here to give you a clear and accurate assessment on the likelihood any text is generated by AI.
Unusual Writing Style: Pay attention to sudden changes in writing style, vocabulary, or complexity that are inconsistent with a student's previous work. Language models like ChatGPT have unique patterns and tendencies that may stand out.
Conceptual Understanding: Engage with your students during discussions or evaluations to assess their comprehension of the material. If they're unable to explain certain concepts despite submitting well-written assignments, it might indicate external assistance.
Face-to-Face Interaction: Organize one-on-one discussions or presentations to evaluate each student's understanding of the subject matter. This personal interaction can help you gauge their grasp of the material and identify potential inconsistencies.
Remember, while technology can be helpful in identifying potential issues, building trust and rapport with your students can encourage them to be honest and genuine in their academic endeavors. Creating an open and supportive learning environment can go a long way in fostering academic integrity.
When it comes to interfering in the educational process, the accuracy rate is critical. With its 99.6% accuracy rate in detecting AI generated writing, Winston AI stands at the forefront of AI detectors. Furthermore, most AI detectors do not detect content from new AI writing tools such as Claude 2 from Anthropic, or paraphrased content. Finally, our detection model is trained on large datasets of academic data to minimize false positives.