As technology advances, AI-generated content is becoming more sophisticated and harder to detect. The launch of ChatGPT on November 30, 2023 has changed the content creation process by making generative AI accessible to all for free.
Another element to consider is how powerful and genuinely good generative AI has become. ChatGPT writes better content than most humans in a few seconds.
In order to maintain the integrity of writers but also in education, it is crucial to have reliable AI content detectors available. This article will provide a comprehensive list of the top 10 best AI detection tools, allowing you to choose the best solution for your content analysis needs.
Summary: Winston AI stands out as a leader in the field of AI detection, providing unparalleled accuracy and reliability. With a detection rate of 99.6% in identifying AI writing, their most recent model is the pinnacle of AI detection technology. Not only can it detect content generated by ChatGPT, but it can also identify content made by other powerful Large Language Models, such as Anthropic's Claude, LLAMA, Open Assistant, Bard, and Bing Chat.
What sets Winston apart from its competitors is its cutting-edge algorithm that delivers a comprehensive assessment of text and highlights areas likely to have been generated by AI. Its user-friendly interface allows users to easily upload text in various formats, including word and even scanned documents. Winston's unique capabilities to scan large documents with virtually unlimited words are unmatched in the industry.
As a testament to its effectiveness and accuracy, Winston is widely used by educational institutions as their go-to tool for AI detection. Whether you're a student or a professional, Winston's powerful plagiarism detection tool is indispensable. Plus, with a free trial and affordable paid versions, Winston is the ultimate choice for anyone seeking unparalleled accuracy and reliability in AI detection. So, it's no surprise that Winston AI is the most popular AI detection tool on the market today.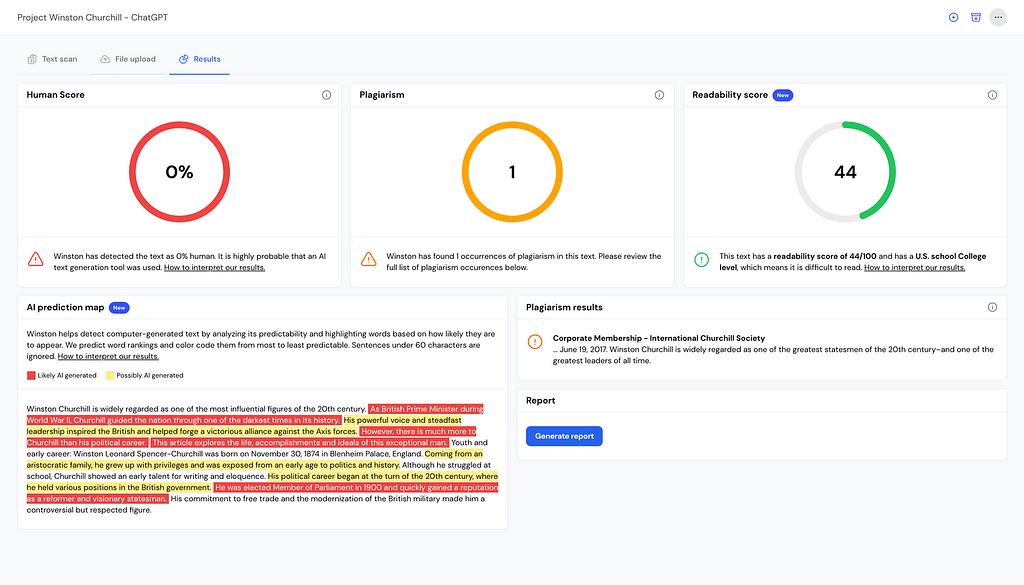 Pros:
Best detection scores for all main LLM's (Detects ChatGPT-4, Anthropic's Claude, LLAMA, Open Assistant, Bard, and Bing Chat.)
Best user interface
Ability to upload word files, or even scanned documents of larger size.
Detailed results including overall assessment, and highlights text areas that have a high probability of being AI generated.
Provides a Readability score.
Printable and shareable reports.
Has a plagiarism detection tool built in.(Paid plan only)
Free Trial
Cons:
Limited language support (English, French and German only)
No website scanner-chrome plugin.
Bottom Line: With its best in class detection rate, user friendly interface, printable reports and affordable rates, it's easy to understand why Winston AI is the preferred solution for AI detection.
2. Crossplag
Summary: Crossplag was known to be a very popular plagiarism detection software. They offer an advanced AI-driven content detection solution designed to identify duplicate or plagiarized content. It works by scanning billions of sources online and analyzing the text for similarities, providing users with a detailed report that includes similarity percentages and highlighted copied sections. They recently launched an AI generated content detector that has gained in popularity.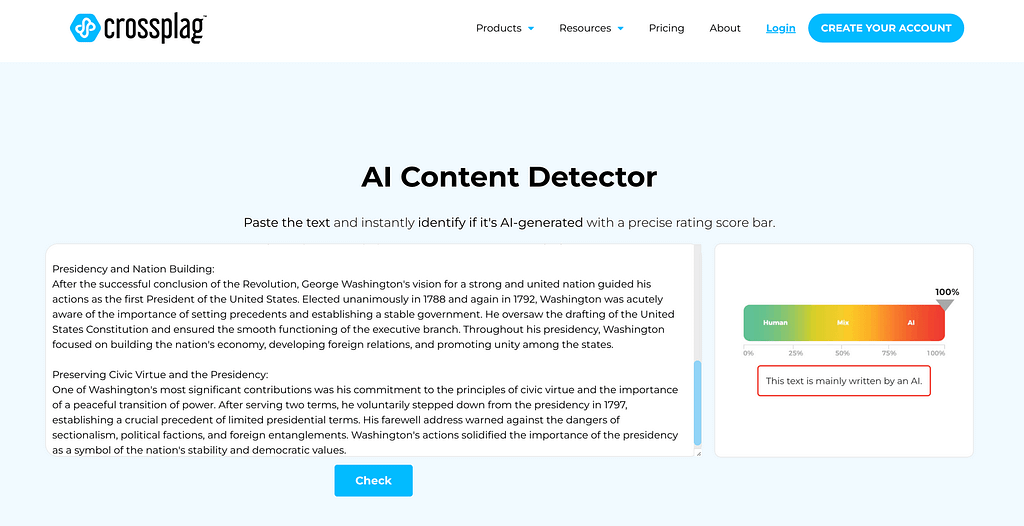 Pros:
Easy to use
Quick analysis time
Support multiple file formats
API available
Free Trial Available
Cons:
Pricing per word is pricier than other options.
Limited information about the supported LLM's.
Bottom Line: Crossplag is a legacy plagiarism detection solution. Their capabilities in terms of AI model detection is unclear, but their reported detection rates are in line with industry standards.
3. Writer
Summary: The Writer platform provides a complimentary detector capable of analyzing texts with a maximum length of 1,500 characters. For extended usage, API access is necessary which makes it less than ideal for regular users. Moreover, as an AI writing platform, Writer offers a free content detector that enables users to verify text by inputting a URL. It's important to note that the tool does not have a dedicated plagiarism detection feature and provides an overall score without indicating specific sections as potentially AI-generated or not.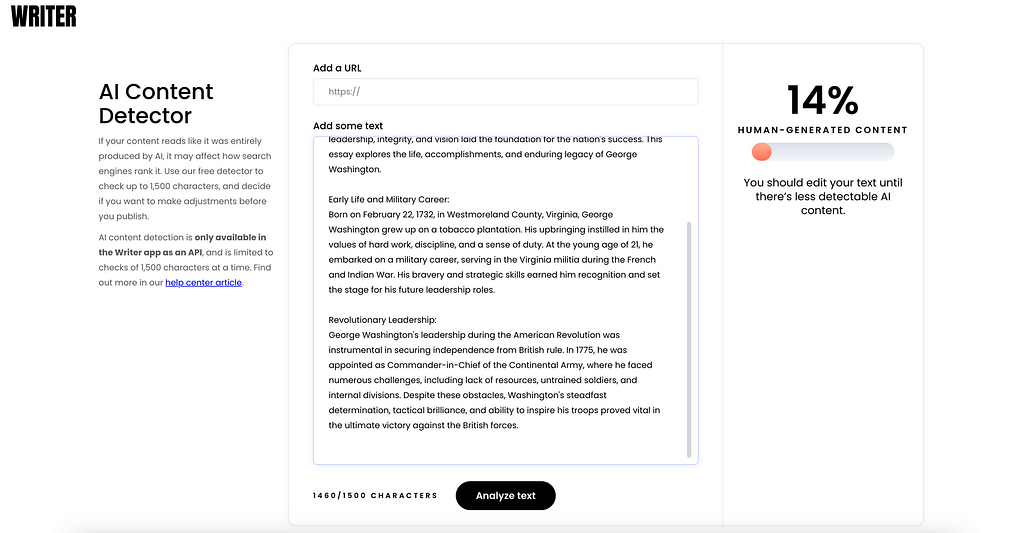 Pros:
Easy to use
1500 words free trial
Real-time scanning
Cons:
API necessary for bigger documents.
Does not highlight sentences likely generated by AI.

Bottom Line: Writer is easy to use and quick to make a light AI detection scan.
4. OpenAI's AI Text Classifier
Summary: Developed by Open AI, this detection tool is surprisingly very rudimentary. It provides a very high level assessment on the likelihood a given text was generated by AI or not. They have a few labels, including very unlikely, unlikely, unclear, possibly, or likely AI-generated. You'll need a minimum of 1,000 characters to process your scan. Our internal testing team was able to easily bypass this tool.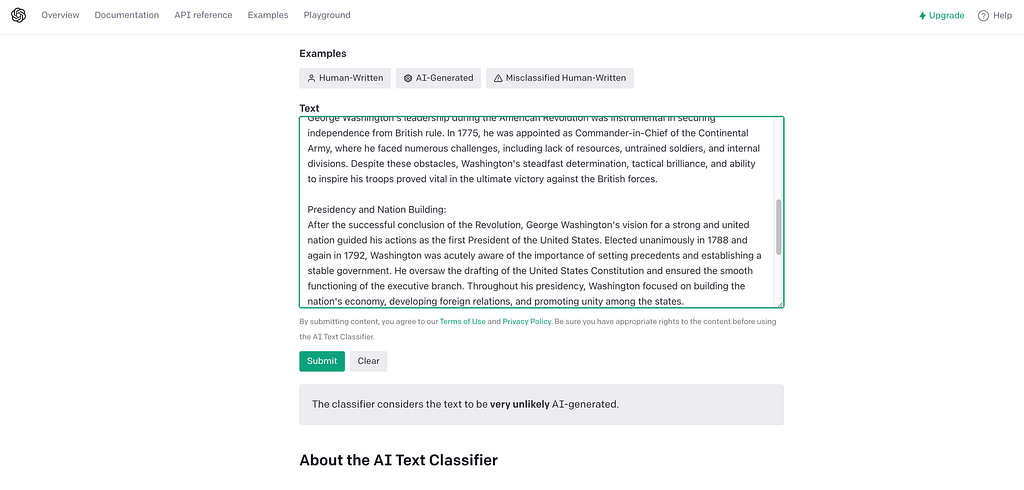 Pros:
Free, but you'll need an Open AI account.
Simple to use
Cons:
Very high level assessment.
Easy to bypass.
Doesn't give you any guidance.
No highlights of sentences likely generated by AI.
Bottom Line: We had high expectations of the tool developed by Open AI to detect its own content, but our experiments were extremely disappointing. We were able to easily bypass this detection tool with various prompts, and slight paraphrasing.
5. Hugging Face GPT-2 Output Detector
Summary: Hugging Face is a leading provider of AI tools and services for natural language processing and machine learning. AI content detection is increasingly prevalent, and Hugging Face is a pioneer in this field, nevertheless it is a tool that was trained on GPT-2 data.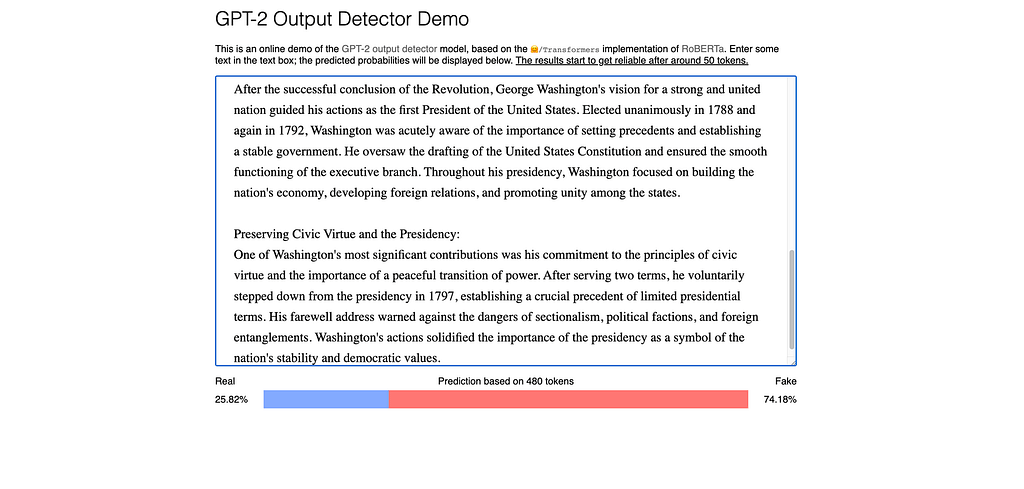 Pros:
Fast and simple to use
Free
Cons:
Trained on GPT-2
Does not detect new LLM's such as Claude
Extremely easy to bypass with advanced prompts
Bottom Line: Hugging Face's AI detector is one of the first to make its appearance, however there have been many developments in generative AI that raised the bar for AI detection in the past few months.
6. Draft & Goal
Summary: Draft & Goal is a content generation tool that utilizes AI to create unique articles on various topics. They recently developed an AI Content Detector feature designed to ensure the originality of the generated content.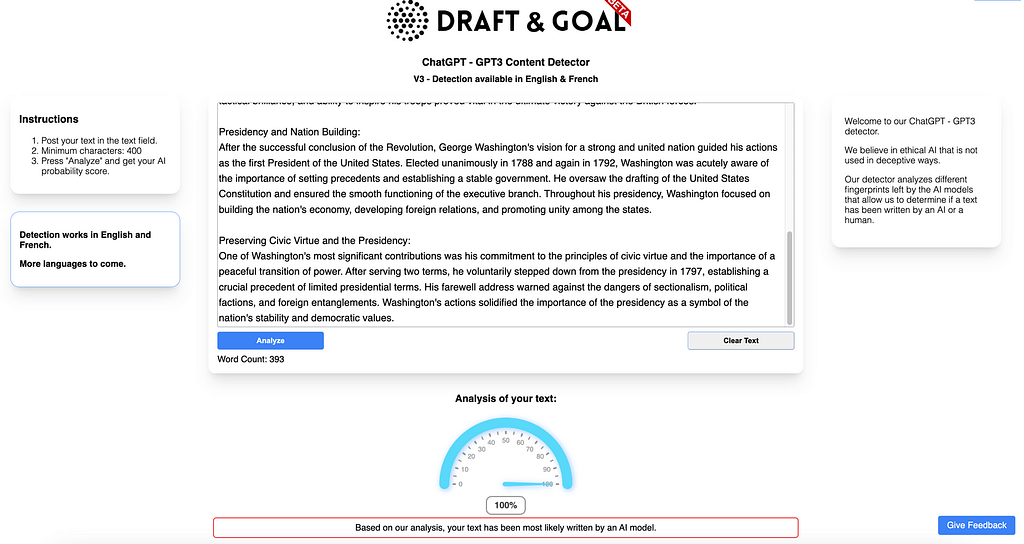 Pros:
Supports multiple languages (French and English for now, more to come)
Free
Easy to use
Cons:
Low detection rate
Several events of false positives reported.
Requires 400 characters to scan.
Bottom Line: Draft and goal offers a simple and intuitive user interface to quickly scan content for AI. They are working on a much needed improvement of detecting AI generated text in other languages than English.
7. Writefull GPT detector
Summary: Writefull is a cutting-edge tool created to aid writers, especially those in academia, in their writing. It provides a range of valuable features such as a paraphraser, abstract generator, title generator, and sentence palette. The platform's primary goal is to assist users in producing top-notch, well-organized content while minimizing the time and effort required. They've also deployed an AI detector.
Pros:
Fast
Detects ChatGPT content very well
Generous Free Trial
Cons:
Can be bypassed with paraphrasing tools such as Quillbot.
Doesn't seem to be trained on new LLM's such as Claude and Bard.
Bottom Line: Writefull is a great AI writing tool for academia overall, however their AI detection capabilities offer a very surface level detection.
7. GPT Zero
Summary: One of the platforms that have received the most press attention is GPT Zero. They offer an excellent free trial and an easy to deploy API. Users can batch upload files in .pdf, .docx and .txt. GPTZero also has a Chrome Extension used by many of its users.
Pros:
Free trial
Easy to deploy API
Paid plans are fairly priced
Chrome Extension
File upload features
Cons:
Mixed review on their detection model
Limited detection with Free Trial
Bottom Line: Given the press received by GPTZero, we had really high expectations for their software. Their software is well built and the API access is easy to deploy. We also found their pricing was quite reasonable. Unfortunately, we found their detection capabilities lacked accuracy as did a few other publications.
8. Zero GPT
Summary: Although the name is almost identical to the aforementioned detection software, ZeroGPT is a different organization. ZeroGPT is a quick and free easy to use tool for AI detection. Their revenue model is based on Ads.
Pros:
Extremely Easy to use
No need to create an account
File Upload capabilities
Free
Cons:
Limited AI detection capabilities
User Experience contains banner ads
Bottom Line: Although many people confuse GPTZero with ZeroGPT, this platform is a lot more straightforward and simple to use. We would recommend it for a very summary assessment.
9. Copyleaks AI detector
Summary: Copyleaks is another legacy plagiarism detection software that has been around for a long time. You can run a surface level content scan without creating an account. They also have a great Chrome Extension. Their results include a simple assessment and contains several "locked" assessments, potentially due to an upgraded feature.
Pros:
Browser extension to scan entire pages for AI.
API integration available.
Offers plagiarism detection.
Detection available in a few languages.
Cons:
No ability to save documents or files.
Plagiarism detection works on a separate tool than the AI detection tool.
Pricing is quite high.
Bottom Line: The Copyleaks platform is already used by several entreprises, making them well equipped to tackle the AI detection wave. We found their assessments unclear and the free version quite limited.
10. AI Detector Pro
Summary: AI Detector Pro has a complete solution for AI detection, along with a very interesting feature to "suggest" alternate content that would potentially be able to bypass AI writing detectors. Their free trial comes with 3 document scans, and without the "ai rewriter" feature. Nevertheless, their capabilities and assessments were on point.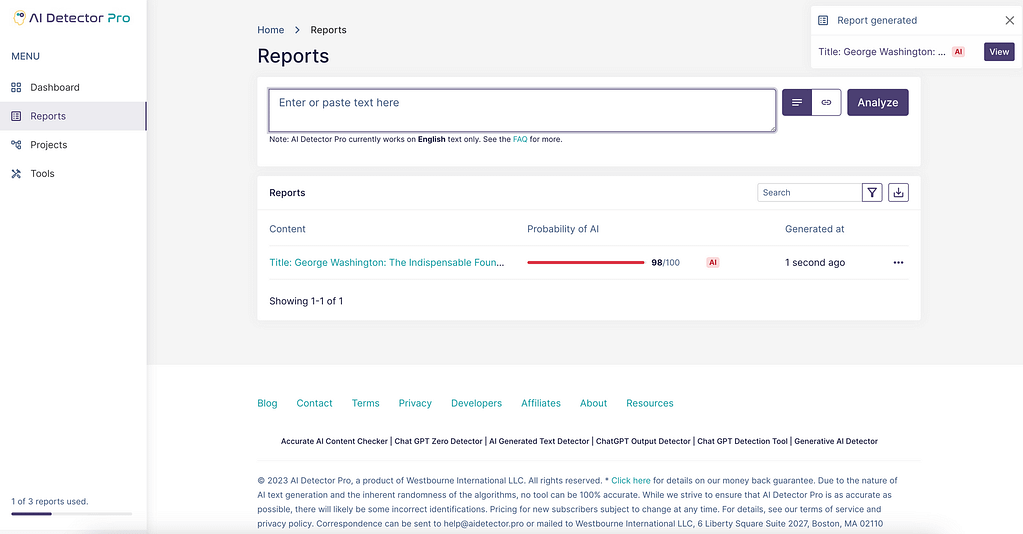 Pros:
Accurate detection
Project and file management
AI rewriting feature
Money back guarantee
Cons:
Pricing structure makes it costly
User interface
Bottom Line: AI Detector Pro has a really interesting business model where they complement their AI detection with AI re-writing to essentially bypass AI detectors.
AI detection FAQ
Are AI content detectors reliable
AI content detectors have been created to discern human-generated from machine-generated content. Among them, Winston AI stands out with an impressive detection rate of 99.6% when it comes to identifying AI-generated content produced by ChatGPT, GPT-4, Bard, and other commonly used AI text generation tools.

As the technology advances, it is anticipated that AI detectors will become increasingly precise, thereby playing a crucial role in safeguarding the genuineness of online information.

How does AI content detection work?
AI content detection leverages natural language processing, machine learning, and deep learning techniques to examine textual content and ascertain its origin as either human-generated or AI-generated. Through this process, the AI system familiarizes itself with the intricacies of human language, discerns distinctive patterns that distinguishes human and AI writing, makes predictions regarding new text, assigns a score that assesses the probability of human or AI authorship, and consistently enhances its performance through regular updates and refined training data.
What is the best AI detector?
Because of its 99.6% accuracy rate in detecting AI generated content, Winston AI is known to be the best AI detector for both institutions and publishers.
What is an AI content detector?
An AI content detector is a software application designed to assess the authenticity of a text by distinguishing texts generated by AI writing tools like ChatGPT and those written by humans. They rely on extensive datasets and various additional criteria to deliver this assessment.
Does Google detect AI writing?
The rise of AI text generators has sparked concerns regarding their impact on search engine optimization (SEO). The potential proliferation of low-quality spam generated by AI poses a threat. However, search engines such as Google are actively enhancing their algorithms to effectively identify and address such content.